Project information
Role:
Research, UI Design
Team:
Imani Ritchards, Dahkota Varela, and Valeria Aguirre
Brief
This project was completed as a part of the
Snap Design Academy
. My group and I were challenged to create an experience design in a six-day design sprint. The parameters of the experience were open-ended, but it had to address the issue of sustainability. The only deliverable required was the minimum viable product (MVP) needed to present our design to stakeholders (Snap employee volunteers, and our instructors).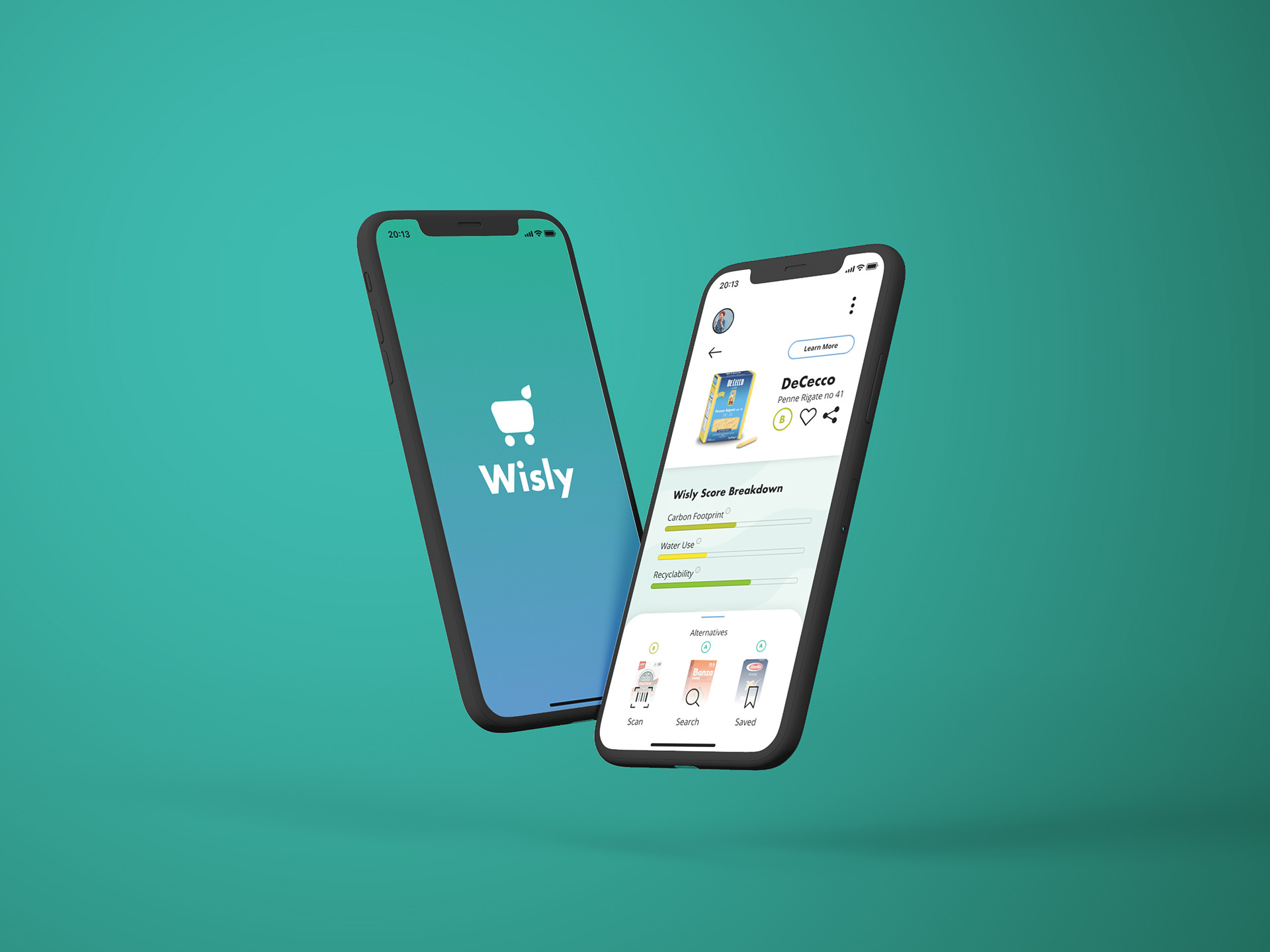 Concept
Wisly is a product scanning app that lets users learn about and compare the sustainability of grocery products. Through our research, we determined that users want to take sustainability into account when making decisions about what to buy. However, because there is no sustainability standard, users are left to make sense of disparate data.
With Wisly, we imagine a platform where that information is not only consolidated but visually appealing and easy to understand.
The Challenge
At the beginning of the project, we set out to address the question:
How might we help and encourage people make more environmentally conscious purchasing decisions at the grocery store?
UX Solution
Wisly lets users scan on the go to find out the sustainability information of any item quickly.
Currently, there is no sustainability standard, but we were inspired by nonprofits like
Heal the Bay
and
Silicon Valley Toxics Coalition
, who have been instrumental in setting standards for their respective industries. Our vision is that a product's Wisly Score will become a sought after measure of sustainability.
See where you stand with Impact Score
An important part of Wisly is that it lets you see how your choices stack against your broader community by tracking your Impact Score.
II. Research
Literature Review & Secondary Research
In this project, I was responsible for the background research to inform my group of the state of the field, and guide them in understanding where Wisly fit into the larger context of the conversation of about sustainability.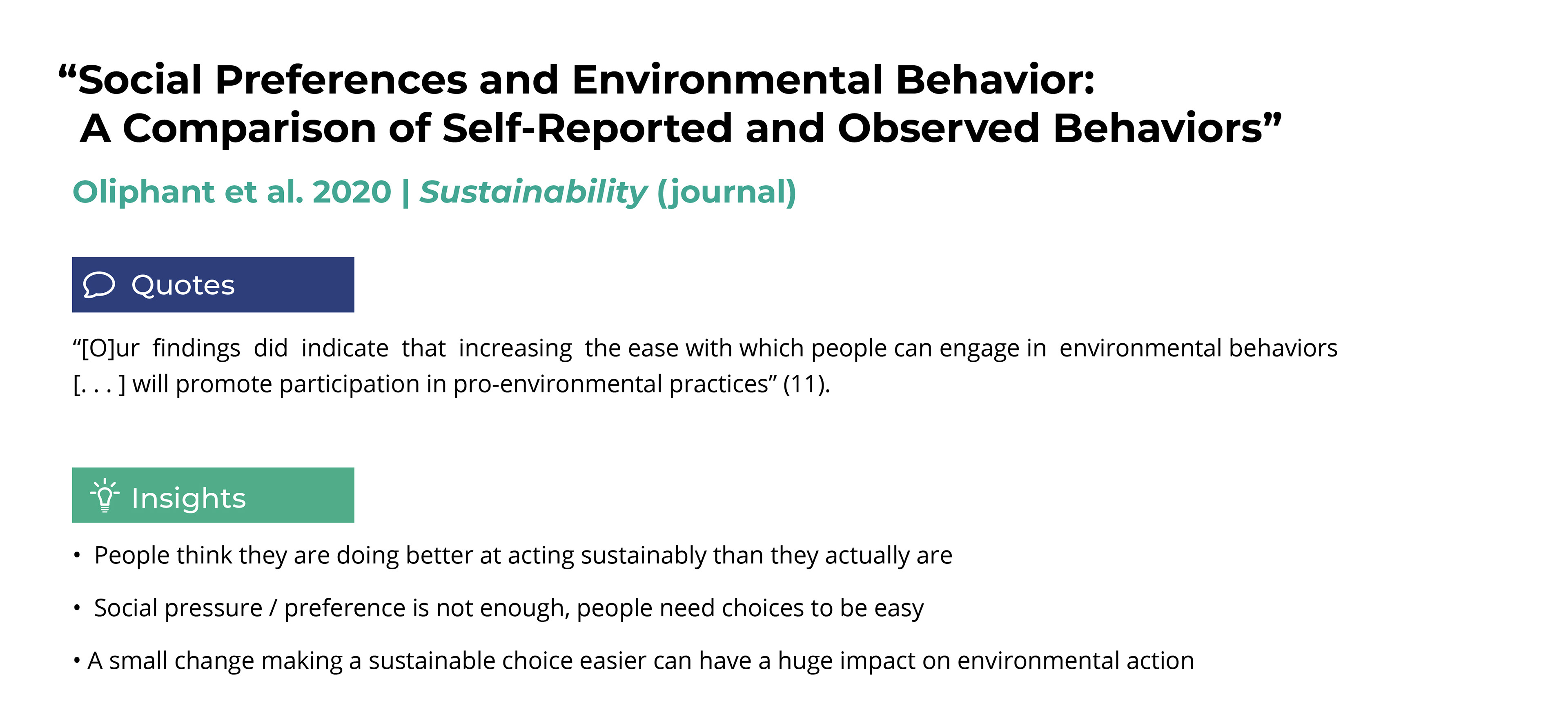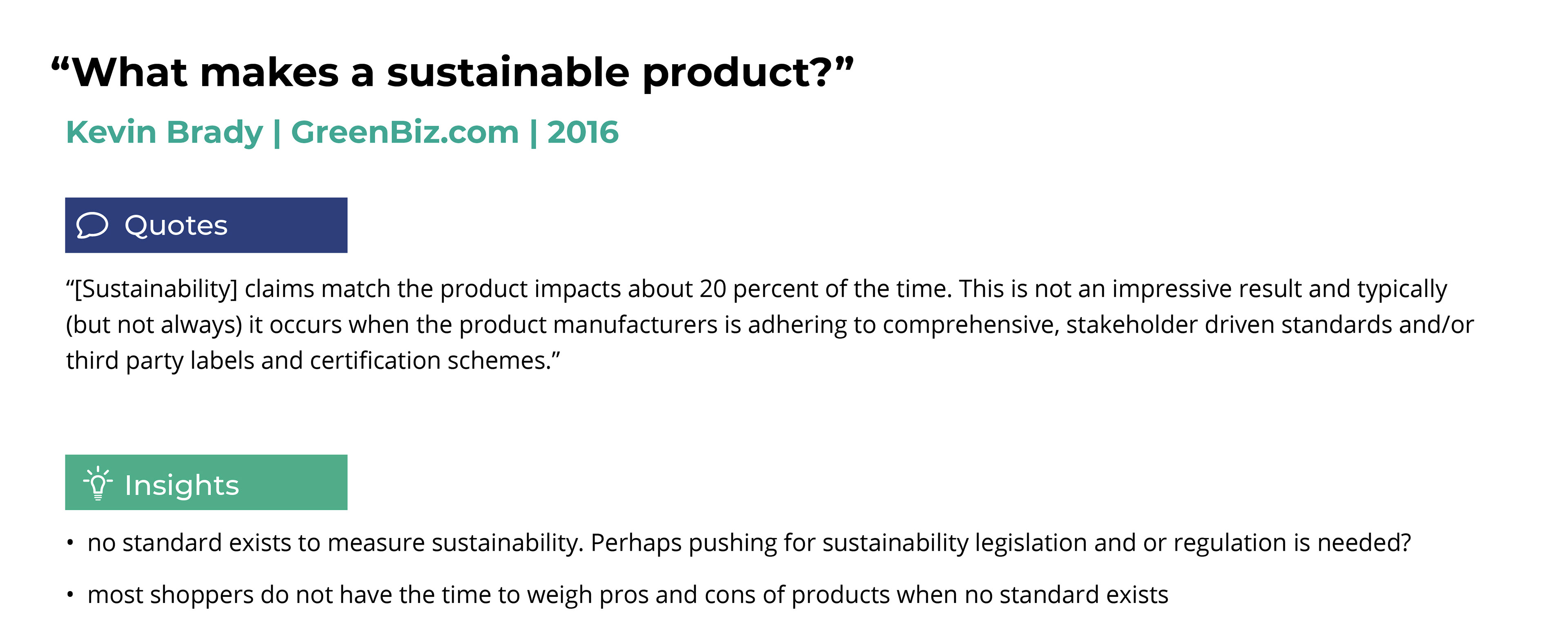 How to Measure Sustainability
Drawing inspiration from researcher
Kevin Brady
, I compiled 
4 major questions to determine a products sustainability
. This is applicable across many fields, but here we are applying it to grocery items.
Unfortunately, transparency about product life cycle is not the standard, so it's hard for most people to seriously ask these questions about the products they buy.
This fact is why a "sustainable 3rd party" (services like Wisly) are so important for today's consumers.

Constraints
There are a few major constrains to designing an app like this, and the first major one is that no data base of the information we want to share currently exists.
In order to produce Wisly, we'd need to take a note from the fashion industry and do the leg work to consolidate and interrogate the disparate data surrounding sustainability measurements.
Assumption Mapping
After presenting my research to the group, together we used this
Stakeholder Map
template, developed by
Lauren Williams
, to map our thoughts and assumptions. (insights are noted in the previous sections)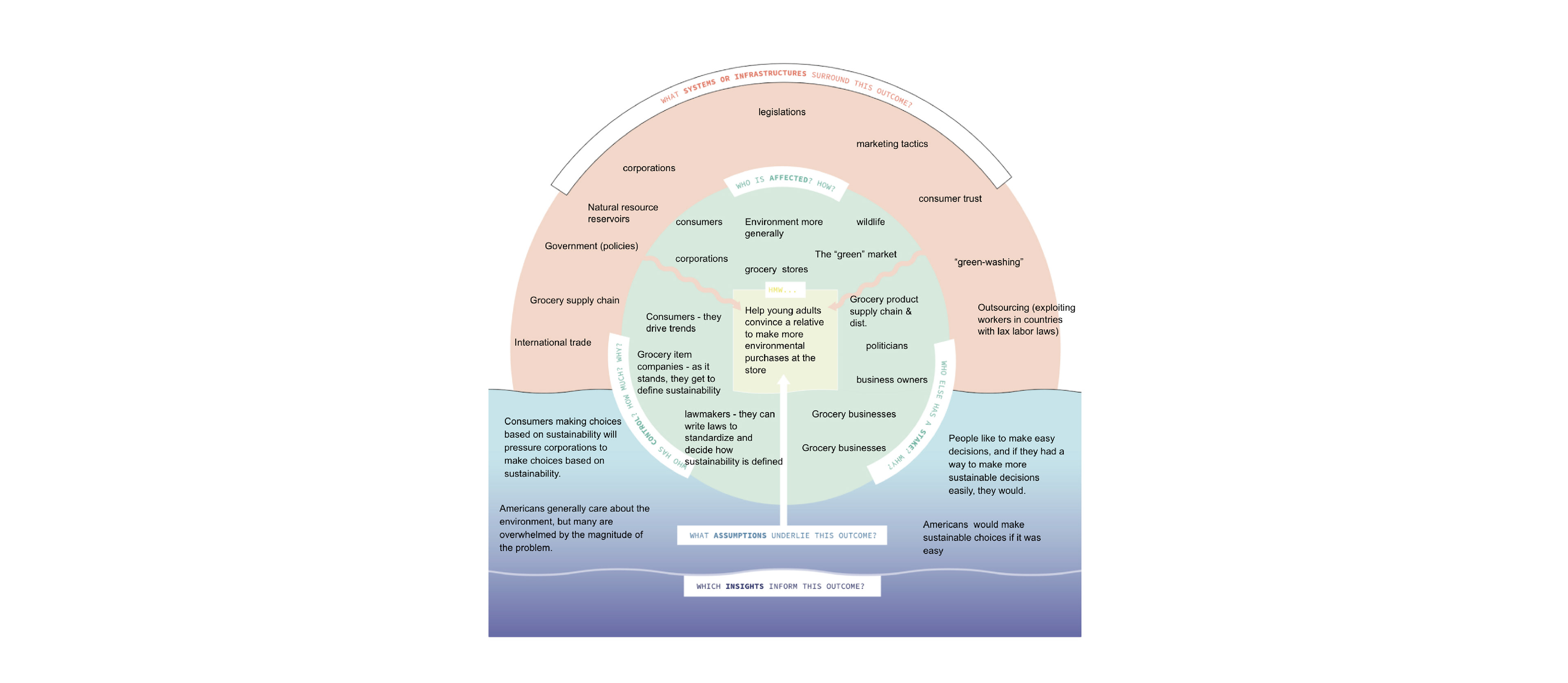 Surveys
After mapping our assumptions, we created a simple survey that users could take on Instagram to get a feel for how consumers felt about shopping with sustainability in mind.
We contacted 115 people of all ages and genders through a simple Instagram poll.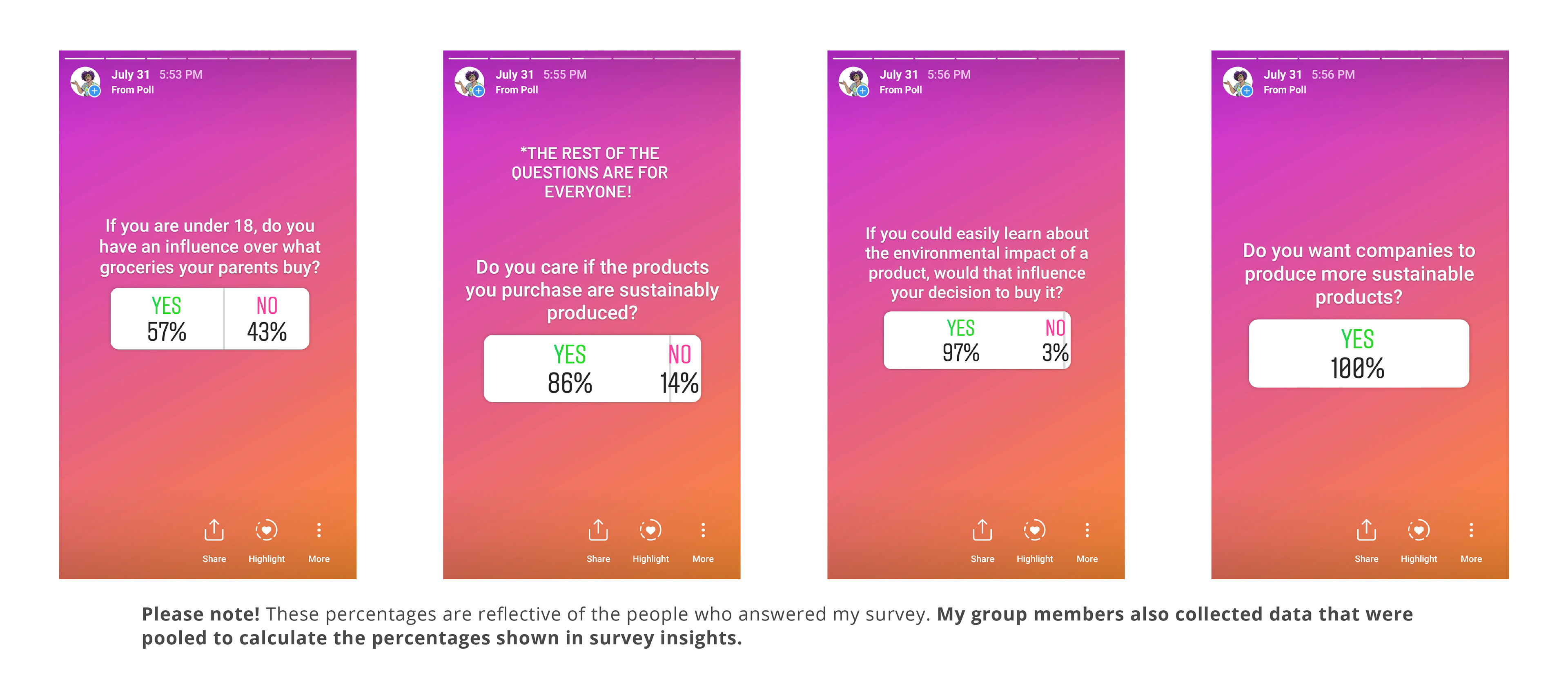 Competitive Analysis
I looked at several apps and websites that let users compare grocery items based on nutrition and sustainability. This process helped us understand how important informational architecture would be for our app, and that how we structured our info could make or break the app.
III. Research Synthesis
Survey Insights
Most people cared that products were sustainable and would use sustainability information, if it were available, to make decisions about what to buy.

Are People Contradicting Themselves?
When we asked people if they wanted products to be more sustainable or if they would use product sustainability for purchasing decisions, many said yes. However, when we asked if they cared about sustainability, some of those people said no. This finding is interesting and seems reminiscent of the Oliphant et al. study.
Further research would need to be conducted in order to uncover 
why 
some said no to question 1 but yes to 2 and 3. 
IV. Design
Wireframes (round 1)
I created this set of low-fidelity wireframes so that we could explain our idea to Snap employees who volunteered to critique our work.
Wireframes (round 2)
Valeria Aguirre
created this set of wireframes /wireflows in order to respond to the feedback we received. She addressed questions we had received as well as thought through the user flow. This is the design I used to create the final UI.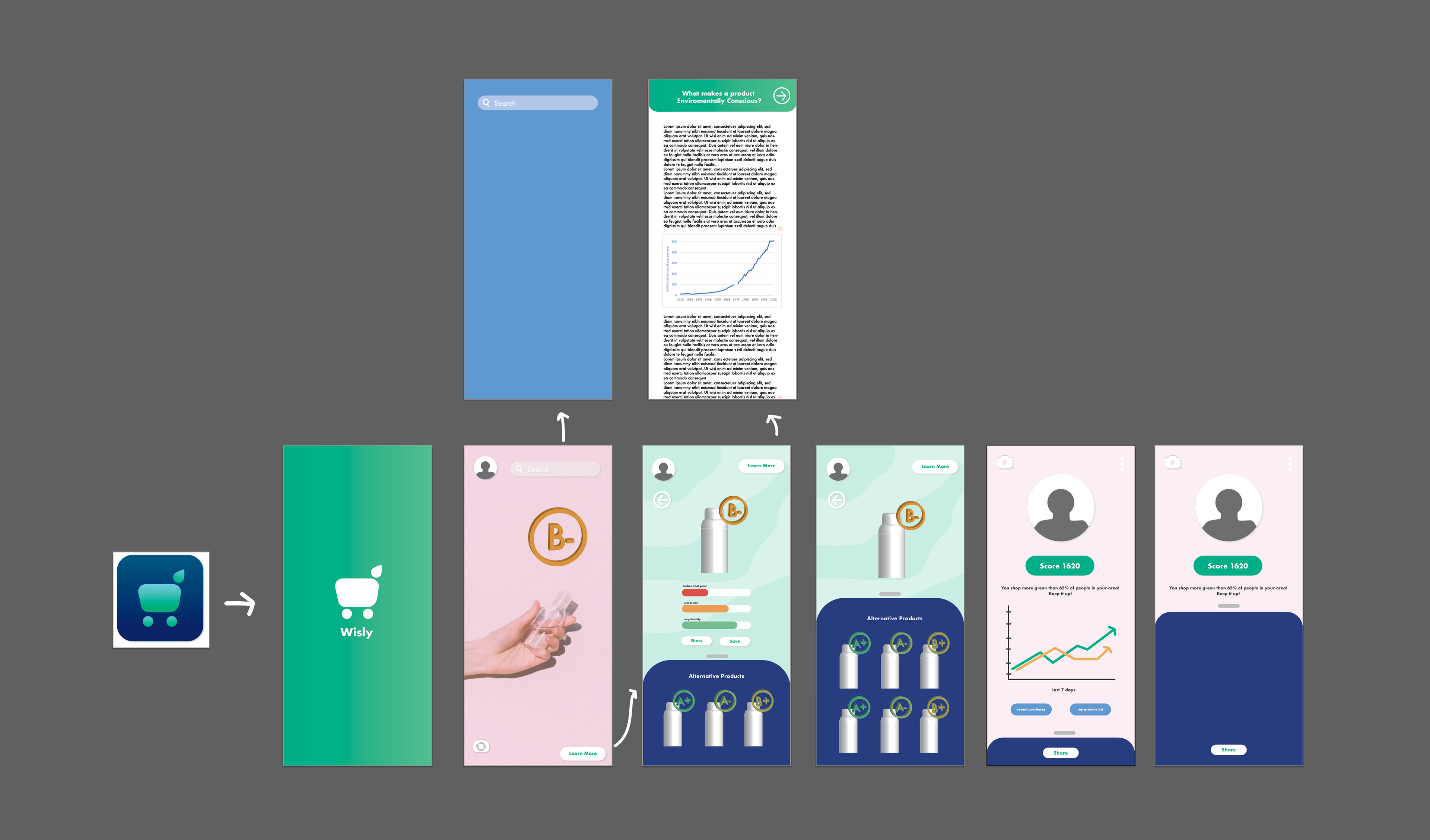 Visual Identity
Valeria Aguirre
created the visual identity for Wisly. Below is her work.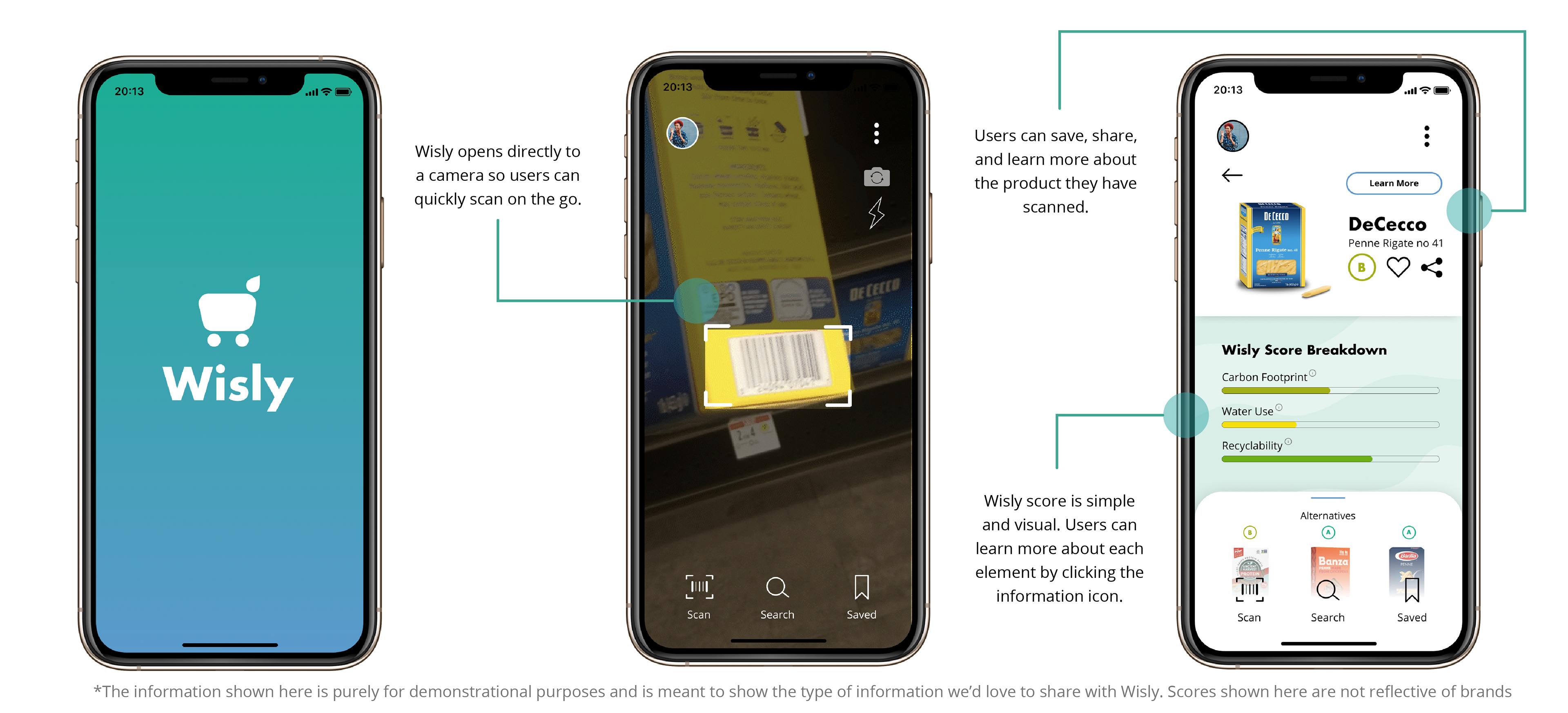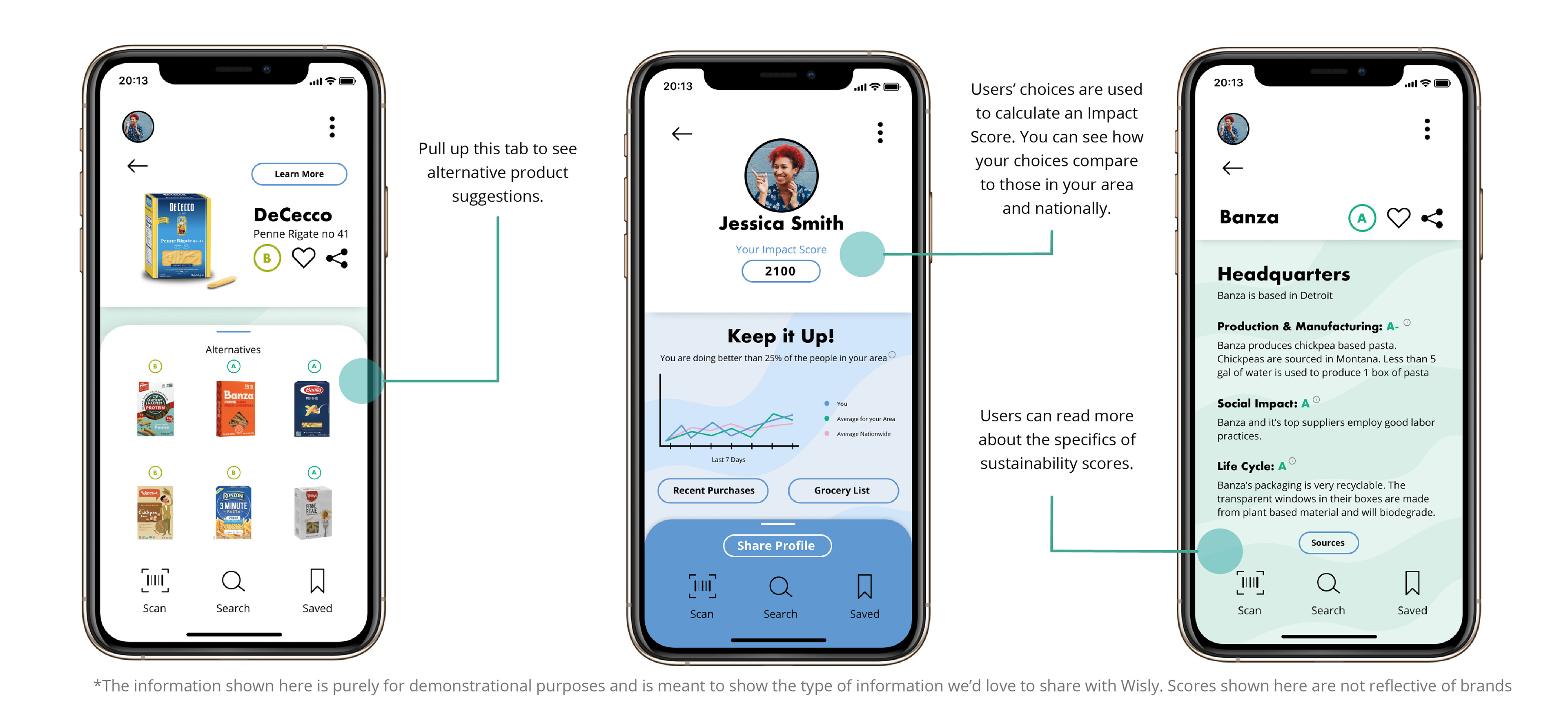 V. Reflections
Next steps
Wisly is still a prototype in the rough states of development. As we worked on the app, we encountered several questions that could only be answered by user tests.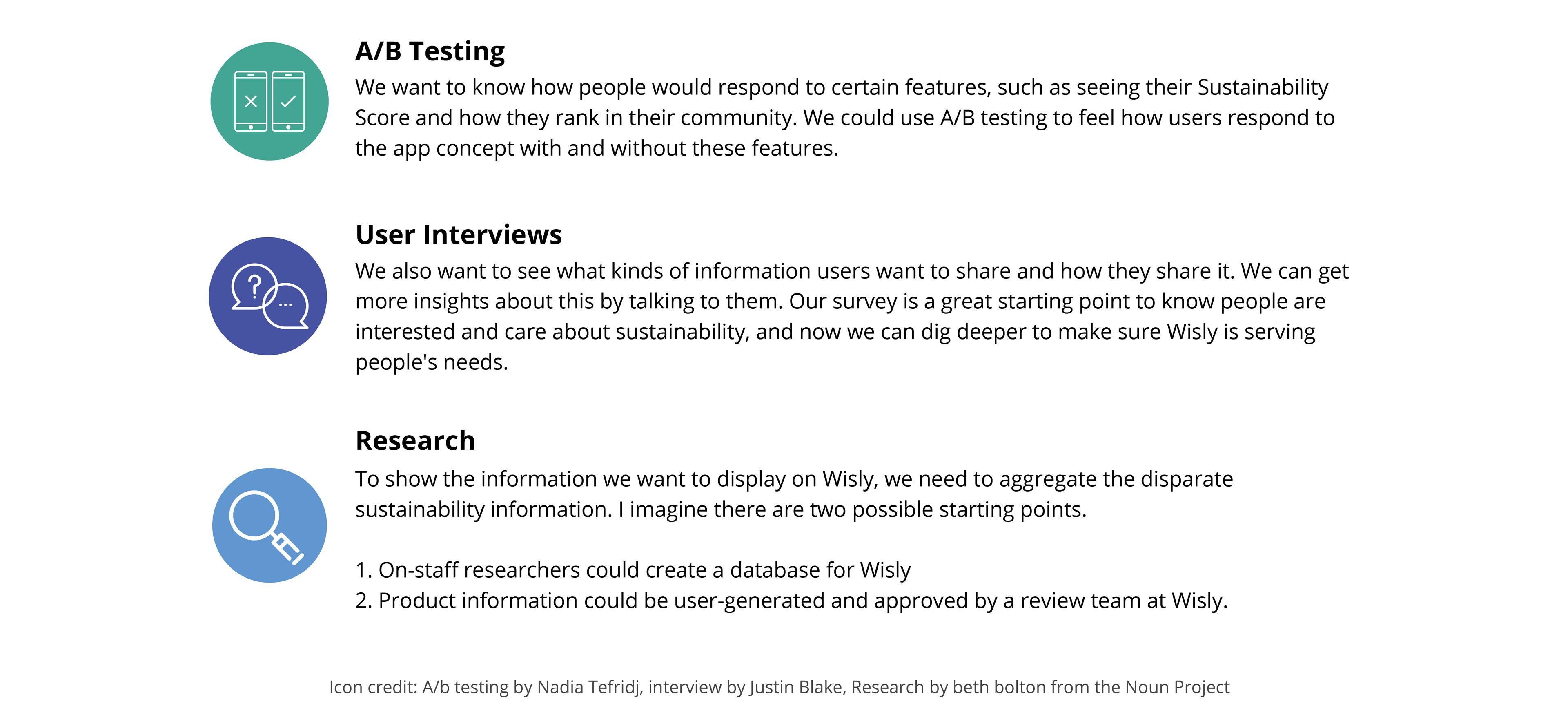 Wisly 2.0
We came up with a lot of features when we worked on Wisly and not all of them made it into the version 1 prototype. One such feature is an interactive map that lets users see what sustainability choices people in their community are making.
We were worried that this feature might lead to some equity issues, and so, we decided to save it for a version two of the app, when we'd have user generated data to help paint a more clear picture of how Sustainability mapping will look.